Tonight, we took two disgruntled babies (well
one
was okay until the end) in
record high heat wave
this afternoon to procure ourselves a family-vehicle.
And since I wanted a
black
2008 RAV4, we had to put an order in for it.
But when it comes it will look like this!
All except for that european license and the dewy green glen.
And if I get my wish, it will then look like this!
Yes. Thanks to Back to the Future, I must have a black Toyota truck with KC lights and a "cattle bar" on the front.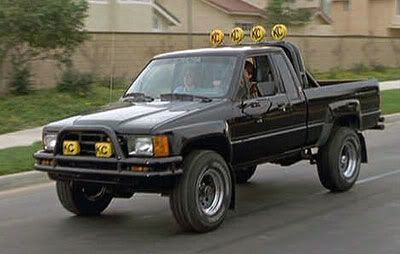 I'm sure that's where I'm getting my coolness cues, and I don't care. I love it.
And y'know, chances are, Franklin's gonna get lost again, and when he does, I'll need all that wattage to track him down! Also, when I accidentally run into the clothes dryer in the garage, I'll need that cattle bar to protect my bumper.
And it's got a third row and bluetooth and gets 27 MPG.
Yes, it's brand new. Something we thought we'd never do. But it was almost the same price as a used one.
Now we just have to wait for it* to arrive...
(P.S. Trina, buy the Audi!!)
*It's 3.5L V6, 24 valve, 269 hp, 5 speed automatic (finally an automatic! I've waited 10 years to not have to shift!!) 19 mpg city / 27 mpg hwy. No it's not the Dodge Journey because 1) it's the first production year and 2) the good gas milage only applied to the model that didn't offer a third row.